In today's age where quality is a pivotal factor across the globe; Software Testing and effective Quality Assurance (QA) is an indispensable element for any organization to ensure minimal risk for the end product. Being a CMMI certified Software Development Company, quality assurance is inherent to any project execution at TatvaSoft. Our dedicated Software Testing & QA Services team works round the clock to help clients across various industries in meeting their organization-wide quality goals and standards. TatvaSoft team of software testing experts have proficiency in multiple technologies, platforms and standards hence they can apply integrated testing strategies and best testing solutions. We have industry standard QA and testing methodologies in place which helps us delivering successful and minimal risk solutions for our customers.
1800+

Completed Projects

21+

Years of Experience

810+

Global Customers

36

Countries Clients Served

SMEs

To Fortune 500
Our Independent Software Testing & QA department can help you with:
QA process consultation and complete ownership for all testing activities
QA requirement assessment and strategy formation
Application testing through entire Software Test Life Cycle (STLC)
3rd party QA/QC assessment of your software solution
Developing the complete set of testing templates including test strategy, test plans, traceability matrix, test cases, defect tracking and feedback form
Reduced testing costs and increased operational efficiency with competitive advantages
Software Testing & QA Services
Test Planning, Management, and Documentation
Business Process Testing
Functional and Regression Testing
Product Verification Testing
End to End Testing
Exploratory Testing
Performance Testing
Internationalization and Localization Testing
User Experience Testing
Automated and Semi-Automated Testing
System Integration Testing
Test Process Consulting
Security Testing
Is your business struggling to identify and eliminate performance issues? Then TatvaSoft as a reliable Testing service provider is the one for you.
To meet the ever- increasing consumer demands and adapt
new technologies, look no further than TatvaSoft.
Get In Touch
Software Testing Company Experience
Our team has a knack in identifying, analyzing and eliminating bugs from applications using our rigorous Quality assurance practices and measures.
Web Sites and Web-Based Applications
Desktop / Client-Server Applications
ERP / CRM / POS / Other Financial Systems
Web Services / API
E-Commerce / E-Business Applications
Database Applications
Mobile Apps
GUI Based Applications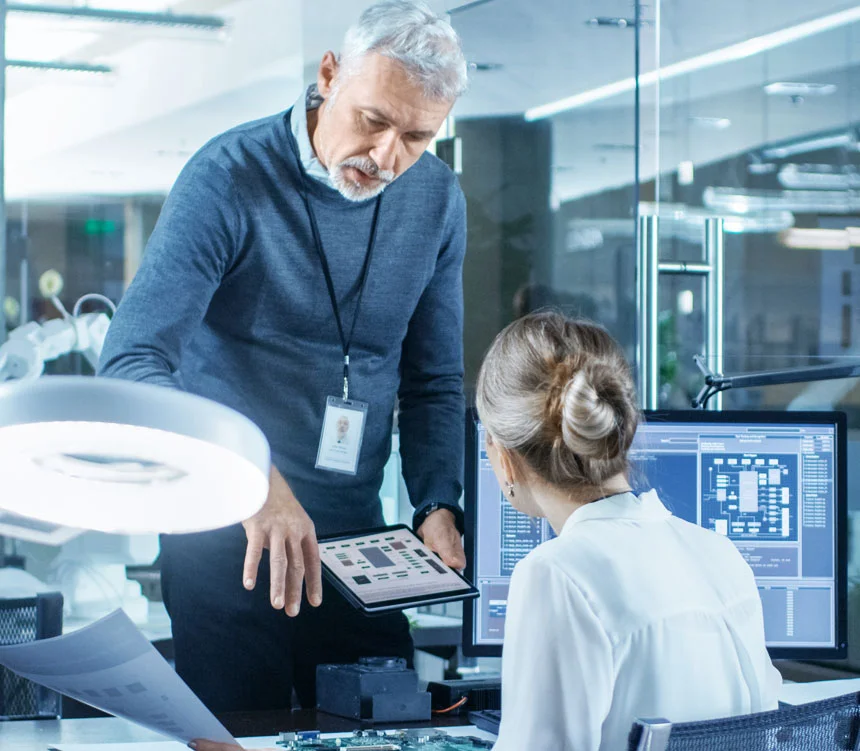 Software Testing & QA Consulting Expertise
TatvaSoft Software Testing & QA Consulting team has expertise in below-mentioned areas:

Web
Selenium
Katalon Test Studio
Nightwatch.js
Jasmine

Mobile Testing
Appium
Katalon Test Studio

API Testing
Rest assured
Postman
SoapUI

Test Management
TestRail
Trello
Jira
Pivotal Tracker
HP ALM

Performance Testing

BDD

Security

Cloud
Why TatvaSoft?
CMMI ML3 Software Development Company

Microsoft Solutions Partner

21+ Year of IT Experience

Expertise in Diverse Technologies & Domains

Approach to Build LongTerm Relationship

Global Exposure and Diverse Expertise

Onshore-OffshoreModel

Proper Hierarchy andEscalation Path

Intellectual PropertyRights Protection

Rapid and RobustSoftware Development
Testing & QA FAQs
What are Software Testing Services?

The process of identifying errors in the process of software development can be termed as Software Testing. Though, it is not just limited to that, there are other factors as well that mitigate the glitch and makes application bug-free and performing. Some of the popular software testing methods are Performance and Load Testing, Mobile Application Testing, Usability Testing, Functionality Testing, UI Testing, Compatibility and Security Testing.

What is Quality Assurance Services?

Quality Assurance is a process of meeting and maintaining quality benchmarks of application.In this process of maintaining quality assurance, developers eliminate the intentional and unintentional vulnerabilities from software functions.

What are the benefits of Software Testing and QA?

Quality Assurance and Software Testing are vital for every business and they will realize this as soon as they know what benefits they can reap from these services. Software Testing offers multiple benefits such as cost-effectiveness, expertise in identifying errors, maintaining quality Standards, monitoring product development, reporting errors on time, improving user experience with greater customer satisfaction.

Is QA a part of Testing?

QA and Testing are often considered as the same concepts because they deliver the same agenda but different approach. QA is a part of Testing where activities such as code improvements, code reviews, plannings, meeting standardized code practice and benchmark are included in this approach.

What is the difference between Quality Assurance and Quality Control?

Quality Assurance and Quality Control are definitely two different processes with a common goal of improving the quality of a product. Software Quality Assurance aims to mitigate risks occurring due to bad quality and highlight them during the development stages. Quality Control is a process of detecting the errors, glitches, issues and defects and resolving it at the time of development.

Which are the factors for making QA successful?

If you are determined to achieve qualitative results, then these are some of the required factors that would make a difference for a successful Quality assurance

Schedule and Planning
Communication
Team-Work
Knowledge and Skill Sets
Real-time Reporting
Ensuring Quality Benchmarks are met

Why choose TatvaSoft for QA and Testing Services?

Testing and Quality Assurance plays a vital role in software development life cycle. Businesses who are detrimental to achieving success from these services must know why they should choose TatvaSoft for their QA and Testing requirements. With almost twenty years of experience, we offer clients a diversified range of software testing services. We promise to deliver high-quality software development services with enhanced user experience with agility and scalability. We perform testing at all levels from Unit testing, API testing, Integration testing, System testing, and Acceptance testing. QA specialists perform different types of software testing methods.

How much time will be taken by you for Software Testing?

The time of project development is dependent on the type of project, technology, complexities, and the availability of the resources . This indicates the time you require for Software Testing.

In the QA process, does Cost Estimation be taken in advance?

QA Testing is not a cost-effective solution if you don't take the right step at the right time. Yes, you must take cost estimations in advance or else businesses would end up paying hefty sums and can be in huge loss. Cost estimation and budget will help businesses get a wider picture of what they are developing and how much profit is expected out of the developed product.

Do you Sign NDA?

Yes during the initialization of the project, with mutual consent, we do sign an NDA keeping all the essential aspects in legal terms.