"Design is not just what it looks like and feels like. Design is how it works." - Steve Jobs
UX = User eXperience, means any aspect of a human's interaction with a software system, including UI (User Interface), Design, Graphics, and Interaction, across all devices.
In today's competitive world, User Interface (UI) of a software, mobile app or a website is as important as its functionality. No matter how wonderful the features are, but if it is not user-friendly, it won't work. UX Design increases user satisfaction as well as the conversions.
With our team of user interface and user experience design experts, we deliver the best designs utilizing all relevant standards and best practices.
1800+

Completed Projects

21+

Years of Experience

810+

Global Customers

36

Countries Clients Served

SMEs

To Fortune 500
We offer end to end UI/UX Design
services including:
Information Architecture Planning
User Roadmap Design (Interaction Design)
Wireframe Designing
Graphics (Visual Design)
Frontend Development
User Testing
UI / UX Services
Information Architecture Planning
Information Architecture Planning is about logically organising information of a system, such that it is user-friendly, intuitive, and consistent. Our UX Experts architect the system such that it enables the users to easily and quickly find what they are looking for.
User Roadmap Design (Interaction Design)
An interaction is a communication between a user and your systems through the interface. Our UX experts are well-versed in identifying such interactions and creating a roadmap of the system that is consistent with the information architecture, data flow, users' expectations and your business goals.
Wireframe Designing
Once the information architecture and roadmap design are ready, the next step is to visualize how the system, app or a website would look like. This can be achieved using a prototype or a blueprint which is known as Wireframes. Our UX experts are experienced in designing the wireframes which help to ensure that the right information is presented in the right way and at the right place.
Graphics (Visual Design)
Look and feel of a system is an equally important aspect, along with the well-organised information architect and roadmap design. Graphics emphasizes the aesthetics of a system which includes colour and contrast, styles, fonts, images, navigation, animation, and many other design elements. In terms of websites, it is a critical element to attract as well as retains the visitors and increases conversion. Our UX experts create alluring graphics as per customer's requirements and branding.
Frontend Development
Frontend development is the process of converting the design into a working system. Our frontend developers are expert in coding technologies like HTML, JavaScript, CSS, PHP, and industry standards. With our years of experience, we ensure that the system works exactly as per the information architect and roadmaps.
User Testing
Once the system is developed it is important to ensure it is accepted by the users and that it performs as intended. At TatvaSoft, User Testing is a prerequisite step before releasing a system. We conduct user testing with different users, obtain feedbacks to understand their views and identify scope for improvements.
To meet the ever- increasing consumer demands and adapt
new technologies, look no further than TatvaSoft.
Get In Touch
UI / UX Experience
We have used our rich UI/UX Design services to do projects across multiple domains like:
BFSI
Education & Learning
Government & Legal
Healthcare
Mining
Manufacturing & Retail
Oil & Energy
Shipping, Transportation & Logistics
Sports & Gaming
Telecom
Tourism & Hospitality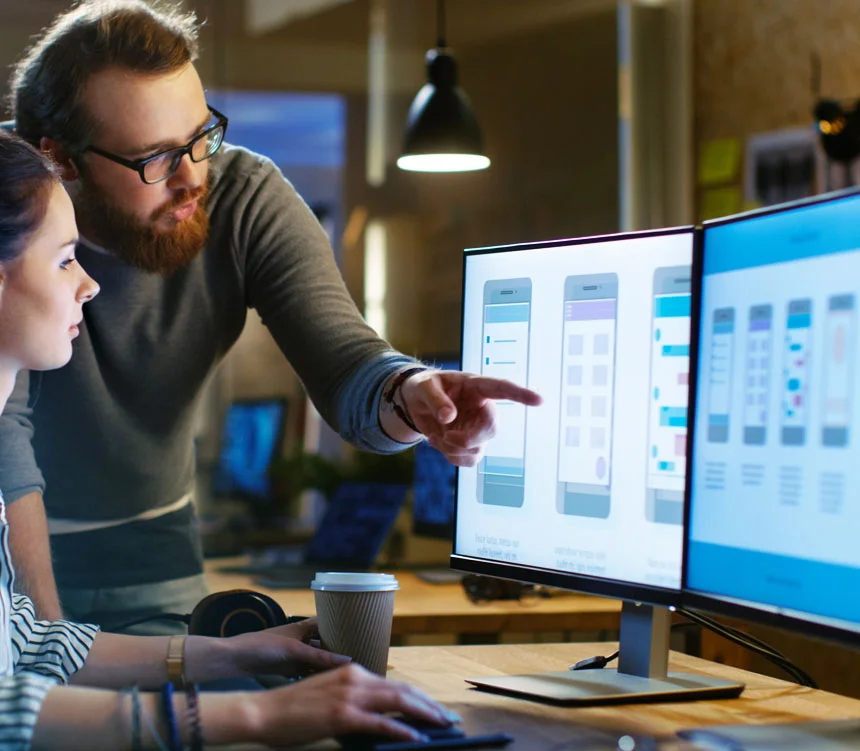 UI / UX Expertise
TatvaSoft UI / UX team has expertise in below-mentioned areas:

Language & Technologies
Bootstrap
JQuery
HTML 5
CSS 3
Sass
Less

Wireframe & Prototype
InVision
Balsamiq
Marvel
Adobe XD
Figma
Google Web Designer

Visual Design
Photoshop
Illustrator
InDesign
XD
Sketch
Figma

Communication Tools
Skype
Slack
ASANA
JIRA
Trello

Design Assets
iOS
React Native
Xamarin
Android
Flutter
Why TatvaSoft?
CMMI ML3 Software Development Company

Microsoft Solutions Partner

21+ Year of IT Experience

Expertise in Diverse Technologies & Domains

Approach to Build LongTerm Relationship

Global Exposure and Diverse Expertise

Onshore-OffshoreModel

Proper Hierarchy andEscalation Path

Intellectual PropertyRights Protection

Rapid and RobustSoftware Development
UI / UX Development FAQs
What do you mean by UI/UX process?

The process of developing an exceptional user experience is dependent on the stages of development such as

Discovery

In this phase, you will perform requirement gathering like client's business persona, key points to be addressed, best business practices, etc.

UI/UX analysis

In the second phase, we will give a WCAG accessibility check, equity analysis, competitive check and understand the areas of scope.

Wireframing and Layout

Check what you want to develop with the information architecture available, UX map, clickable prototypes in their draft format

Conceptualizing visual output and Style

In this process of creating unique user-experience, we must check key screening areas and apply visual concepts to make the developed draft clickable and highly audible.

Icons and Display

The set of pre decided motion studies or interface behaviour and iconography.

Style sheet guide

Utilize the assets as much as you can because the UI kit consists of everything you need from atomic designs, system principles, recommendations, illustrative designs and other identity element guides.

How much time span is needed for UI/UX design?

The time span of UI/UX design or development is dependent on the project and its complexity. If the project scope is long then it might take longer to design and develop. On average, it takes like three months to design the UI/UX of the application.

How much does UI/UX design cost?

Ideally, a UI/UX designing cost would range between $50-$500/ hour or could be more depending on the complexity of the app development . The price range can also vary depending on the experience of the designing company, their location, number of resources involved and similar reasons.