In today's fast-paced digital world, where the economy and technology trends are changing rapidly, businesses need to adapt quickly to the right technology in order to gain the competitive edge. It is critical that the software applications should cater to multiple devices like desktop, tablet, mobile and should also support multiple platforms. TatvaSoft, with its years of experience, expertise, and processes, enables organizations to leverage Information Technology for business growth. As a Custom software development company our practice is governed by close co-operation with the customer, innovative approach, engagements and delivery models resulting in maximized project ROI.
1800+

Completed Projects

21+

Years of Experience

810+

Global Customers

36

Countries Clients Served

SMEs

To Fortune 500
Custom Software Development Services at TatvaSoft
We at TatvaSoft, offer end-to-end software development and mobile apps development services, by leveraging our strong domain expertise and skills in pioneering technologies. TatvaSoft's application development process goes hand-in-hand with customers' business requirements for developing & customizing varied software applications that provide them the strategic advantage.
Custom Software Application
Development Services
Custom Application Development
Enterprise Application Integration
On-premise and Cloud Application Development
Mobile Apps Development
Application Migration & Re-engineering
Application Maintenance
Client-Server Application Development
TatvaSoft offers software solutions consulting services spanning across all the SDLC stages that are requirement analysis & defining scope, application design & prototyping, application development & testing and finally deployment & support.
To meet the ever- increasing consumer demands and adapt
new technologies, look no further than TatvaSoft.
Get In Touch
Custom Software Development Experience
TatvaSoft leverages its vast industry experience for building custom software applications by applying industry best practices. Our vertical expertise covers the following industries:
BFSI
Education & Learning
Government & Legal
Healthcare
Mining
Manufacturing & Retail
Oil & Energy
Shipping, Transportation & Logistics
Sports & Gaming
Telecom
Tourism & Hospitality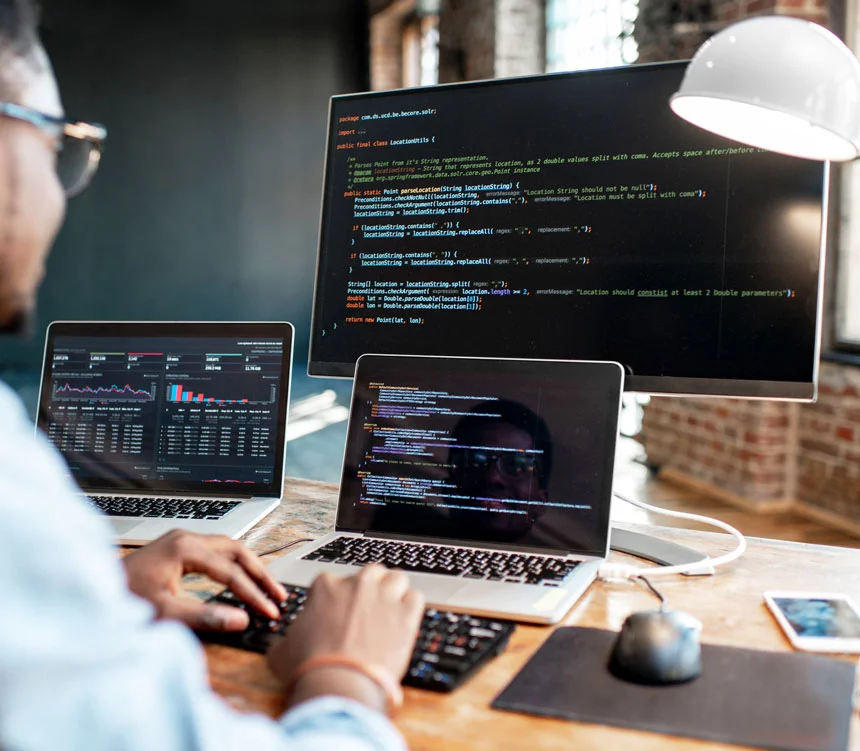 Software Development Expertise
Our team of certified software developers uses the following tools and technologies to provide application development services:

Backend
.NET
Node
Ruby on Rails
Java
PHP

Front End

Database
SQL Server
Elasticsearch
MongoDB
Oracle
PostgreSQL
MySQL
Cassandra
Dynamo

Mobility
iOS
React Native
Xamarin
Android
Flutter

Cloud & DevOps
Amazon Web Services
Jenkins
Kubernetes
Google Cloud
Docker
Azure

Testing
Katalon Studio
Apache JMeter
Postman
OWASP ZAP
Selenium
TestRail
BrowserStack
JIRA

Others
SharePoint
Power BI
BizTalk
Apache Kafka
Custom Software Development Case Studies
Why TatvaSoft?
CMMI ML3 Software Development Company

Microsoft Solutions Partner

21+ Year of IT Experience

Expertise in Diverse Technologies & Domains

Approach to Build LongTerm Relationship

Global Exposure and Diverse Expertise

Onshore-OffshoreModel

Proper Hierarchy andEscalation Path

Intellectual PropertyRights Protection

Rapid and RobustSoftware Development
Custom Software Development FAQs
What is Custom Software Development?

Custom software development is a simple process of abiding by custom software needs. This process is inclusive of creating the software, designing its architecture, developing the software, testing and deployment. After deploying the software, the post deployment maintenance service is also a part of custom software development. It is exactly the opposite of off-the-shelf applications aka ready-made software.

What are the benefits of Custom Software for any business?

Custom Software Development means developing software that uniquely fits into your enterprise process through custom applications. So, when the app is customized, you are able to leverage multiple unconventional benefits such as

Efficiency and Quality driven solutions
Automation boosts productivity
Security of data and apps
Scalability and agility
Cost-effectiveness
Optimal results

Do you sign NDA for privacy?

Yes definitely, we do sign an NDA during project initialization with involvement of both the parties in order to mitigate any future disputes or breaches.

Does TatvaSoft offer maintenance and support after the development?

Yes, once your application is deployed, we ensure to provide relevant post development services and maintenance for the customized software. The change can be anything from a minimum error to major technology upgrades.

What is the difference between off-the- shelf and Custom Software Development?

Custom Software Developed Apps and off the shelf applications are two completely different aspects of development. Off- the-shelf applications or Ready-made apps come with a defined approach and goals, you can solve your problems if you have them but without any modifications. While custom software apps are solutions to your problem which is customized in a way that caters to many problems at once with its services.

What is the cost of Custom Software Development?

The cost of Custom Software Development will definitely range from some hundred dollars to thousand dollars depending on several factors like the project scope/size, technology, complexity and some more. So, once you decide what you want to develop, get an estimation of cost to better see if it fits into your budget or not.

Why choose TatvaSoft for developing customized software?

TatvaSoft is a CMMI level three Custom Software Development company. Our 18+ years of substantial experience in tech business has enabled us to provide all types of Custom Software Development services with latest technology, tools, frameworks and libraries. We are a gold Microsoft partner and have delivered more than 1800 projects with our deep understanding of Agile development methods, DevOps, standard quality measures, strong domain excellence and effortless management of intellectual properties. TatvaSoft Australia Pty Ltd has been selected among the Top Custom Software Development Companies in Sydney.